LONDON STUDIO TESTIMONIALS
Nick da Costa, Motion Control
Nick da Costa recently shot multi-day Motion Control shoot: "I have just finished shooting what must now be my sixth commercial at Mount Pleasant Studio. After the first shoot, I knew I would come back. After the sixth, I am certain I wouldn't go anywhere else. It's a great studio, very well-equipped, nicely central and with good parking. But just as important as all the technical stuff, Simon always bends over backwards to help. Mount Pleasant lives up to its name".
Francis Castelli, Why Not Associates
Why Not Associates were in the TV studio shooting complex timelapse idents for Hidden Talent, a C4 show presented by Richard Bacon. Producer Francis Castelli said: "It's always a pleasure shooting at Mount Pleasant …. everyone is on hand to help and nothing seems too much trouble."
John Hill, Vincent
Producer John Hill of Vincent did a green screen shoot and said: "it was a pleasure working with  the Mount Pleasant guys. They had great lighting equipment and ample shooting space for our green screen shoot. Having separate makeup and client entertainment spaces also helped. Simon was very helpful on the day."
Wendy Clarke, BBC
Noel Gallagher being interviewed at the television studio by Mark Lawson. Our lighting rack with its host of Arri lighting was the backdrop. Unsurprisingly it 'contains some strong language'.  BBC Production Co-ordinator Wendy Clarke said "Mount Pleasant Studios were extremely helpful and hands-on when we filmed with them in January – we would definitely use them again!"
Emma Middleton, P for Production
TV Producer Emma Middleton of P for Production said of her Finlux TV shoot: "I thought that the service at the TV studio was exceptional. There was always somebody around when there was a problem, and a solution was found quickly and helpfully. The facilities were also very good, and suited our needs for the shoot, as was the hospitality and the very generous afternoon teas!".
Lee Climpson, London Creative
London Creative shot a big cast and a big credit card against our new white cyc. Producer Lee Climpson said: "We recently shot a national TV campaign for the Shout Visa Card at Mount Pleasant. The stage is large and has a spacious green room which was perfect for our large number of actors and clients. Plus it's always nice to work with a friendly bunch, which perfectly describes the guys at Mount Pleasant. We'd highly recommend this studio – one of our faves!"
Ruth Illger, Intro
Intro produced a fantastic BBC Sport promo for the British Grand Prix, and it was great to have Murray Walker in the studio. He's not only a TV legend, but an advertising one too.  In his copywriting days he created slogans such as "Opal Fruits, made to make your mouth water."  I think DOP Joe Dyer's green screen lighting is some of the best I've ever seen.  Producer Ruth Illger said "Everyone's always been very happy shooting at Mount Pleasant. It's close to Intro, parking is easy, a great set-up and space. Us producers love the mezzanine level to watch over the day and the downstairs is a perfect breakout room.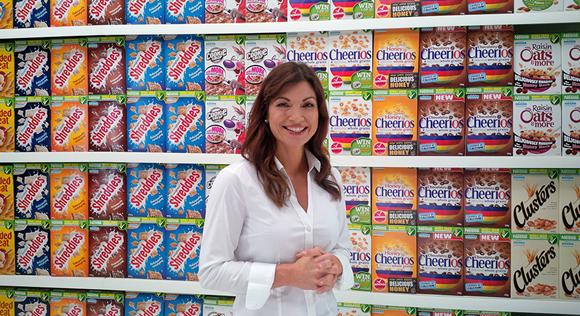 Stephanie Moran, The Buchanan Group
Here's Stephanie Moran of The Buchanan Group: "We always look forward to our film shoots with Mount Pleasant as we know everything is going to run smoothly the second we step in the door, which has been wonderful this year as we have been in and out like a revolving door. With product stacked up to the roof from Cereal to Toothpaste from varying European markets their assistance in receiving, storing and setting up our shelf set is second to none. Familiar with our lighting set ups, they go above and beyond to help us prepare. The Photo studio London provides us with everything we could ask for, with the perfect spaces to entertain clients and prepare our presenters for the shoot. We look forward to each and every shoot with Mark & Simon and their friendly and efficient service".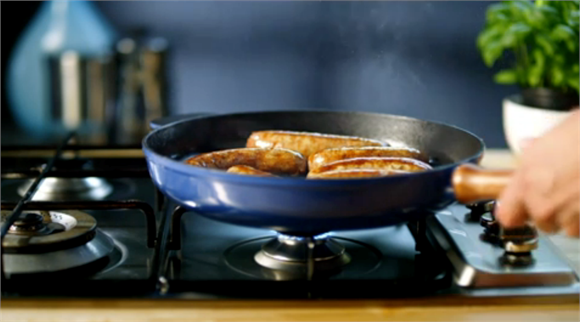 Tom Dalton, Texture Films
Texture Films shot the Ginger Pig sausages section of their Sky+ 'stunt ad' for WCRS at Mount Pleasant. Producer Tom Dalton says "I came to Mount Pleasant on the recommendation of Mark Emberton (DOP). The shoot was confirmed Friday afternoon for a Monday 6am start… The fact the film and TV studio came as a package made things considerably easier, and with so little time, it played a big part in allowing us to do a good job. It was a friendly and helpful place to work, and everyone from crew to client was well looked after.  I'm very pleased with the work we did and Mount Pleasant was an important part of the end result."