Central London's Soundproofed Film & TV Studio
Mount Pleasant Studio is a fully equipped soundproofed film, TV and  photographic studio located in the heart of London. We have hosted all kinds of productions including television commercials, corporate films, music videos, virtual awards and live streamed presentations, sponsorship bumpers, YouTube videos, animation, green screen VFX elements, TV station promos and more. Our new high speed fibre broadband connection is perfect for live-streamed virtual shoots and remote viewing of shoots via Q-Take and Remote Filming.
We only have one stage, so your production team, artists, clients and crew will total privacy.
If you and your production company are interested in hiring the studio, then please call 020 7837 1957 or email: [email protected].
Studio Facilities
Main Studio
•   U-shaped infinity cove
•   31ft wide, 41ft deep
•   Full lighting grid at 15ft
•   Fully Soundproofed
•   3 phase/400 Amp power supply
•   Wired and wireless broadband 150MB/sec upload and download

Basement
•   Large green rooms with sofas, meeting tables and cable TV
•   Makeup and wardrobe room with hairdresser's backwash basin
•   Changing room
•   Shower

Floor Plan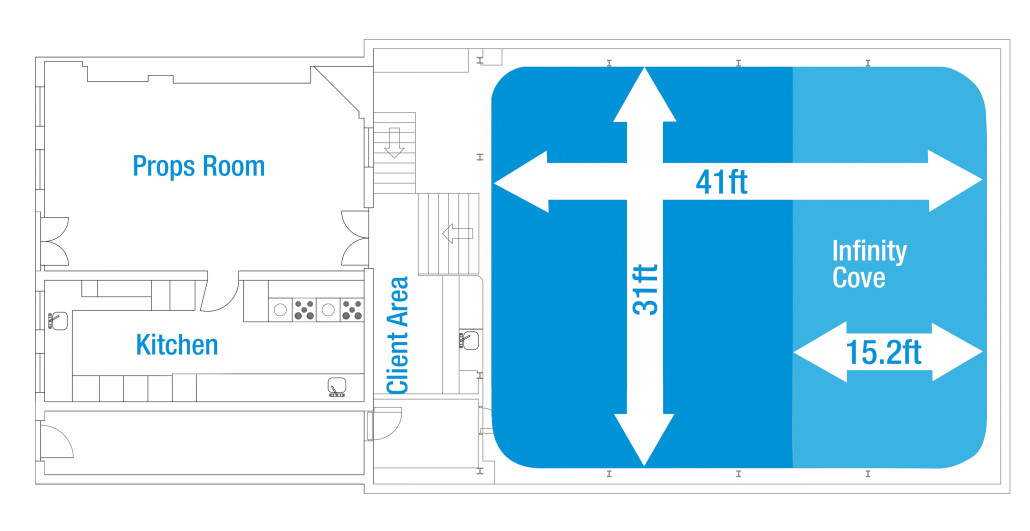 Can you recommend crew members?
Yes! Over the years we have worked many different film crew members, so if you are struggling to find a grip, rigger, sound man or home economist we would be very happy to recommend someone we know and trust.
Do we have to book the greenroom/makeup room separately?
No. Whatever package you choose, you have full access to the green room, makeup room and changing room, as well as our studio kitchen and prop room.
Can I dry hire the studio?
We do not dry hire our film and TV studio as we have such a large selection of excellent in-house lighting available at a heavily discounted price. For the equivalent of £300, over 200kw of lights and huge amounts of distribution, stands, flags, trace frames and accessories are included in our studio and lighting package.