Moviola Dolly with history – our beautiful mechanical beast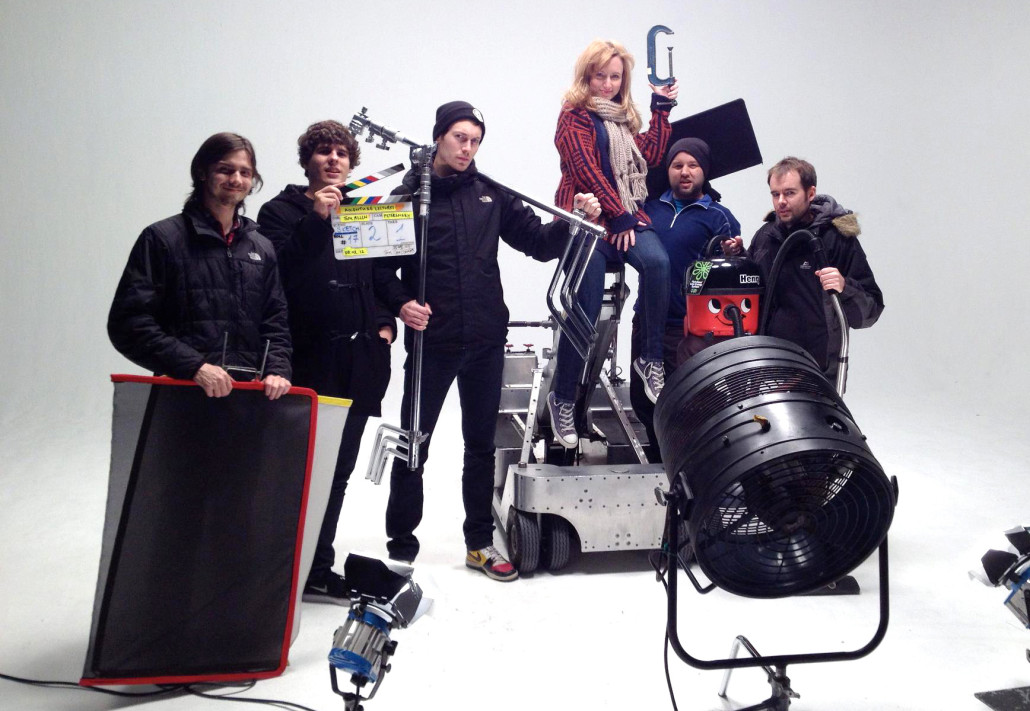 By Mark Dunn, Film Studio Manager
Our Moviola dolly has been a feature of our film and television studio for more than two decades. It was originally bought as a fantastically stable platform for the enormous Photosonics high speed camera. The Photosonics camera was developed to document the NASA space program. The Moviola's heritage stretches much further into the past; it's been in operation for six decades.
Original Moviola Dolly Design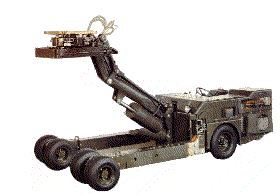 American WW2 bomb loader which later became the Moviola Crab Dolly
 The original Moviola Dolly design was modified from a bomb loader that lifted 500lb and 750lb bombs onto planes during WW2 after an air force officer saw the potential for its use in the film industry. It was made from 'off the shelf' forklift parts and warehouse vehicle tires. Like a Dualit toaster from the same era, it's simple, tough and easily repaired.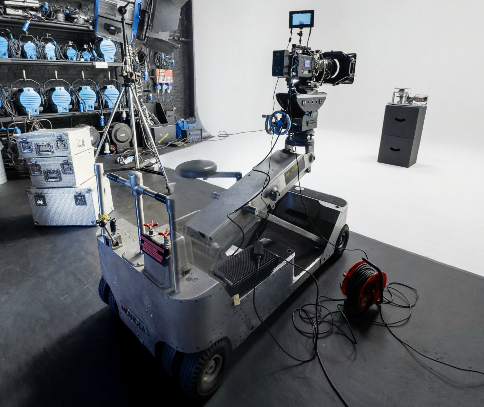 The outer skin consisted of offcuts from airplane fuselage, wing and tail stampings, making it cheap and easy to produce. The only custom parts were the seats and side standing boards. The hydraulics were eventually replaced after WW2 with the aircraft hydraulics that are still used today. Like F1 cars, its 8 tyres can be switched from heavy tread to smooth depending on the surface they're to work on. Alas, the track that allowed precise tracking for close up and macro shots was scrapped by Panavision years ago, although we understand it's possible to fit the Moviola onto a cradle that sits on precision track. It's not often used for tracking moves, however many grips have told us that it has the smoothest jib in the business.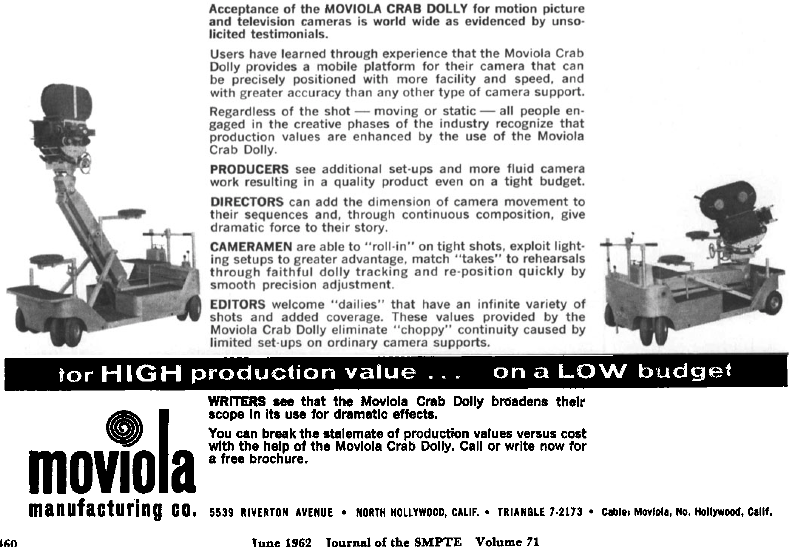 A trade press ad for the Moviola Crab Dolly from 1962
 Last Working Moviola Dolly?
Our dolly is one of the last working Moviolas that we know of, and we can't think of many pieces of film engineering inspired by military applications and adapted for use in the film industry, let alone one that's still in constant use. In 2011 Bob Farrell from Movietech stripped the whole thing down and replaced much of the internal mechanism with new off-the-shelf and bespoke parts that have given it a new lease of life.
Bob tells us that Martin Scorsese fell in love with a Moviola during the 2010 shoot of 'Hugo' at Shepperton, impressed by its simple yet elegant design, and its ability to easily bear the weight of Alexa 3D rigs that may have been heavy, but were nothing when compared to a 750lb bomb.
It's serviced regularly by Movietech and used regularly in all kinds of film and TV studios. We hope you will come and work with a piece of film history soon.