SOUNDPROOF STUDIO
Our soundproof studio has been used by our clients to produce a wide range of promos, short films, trailers, television programmes, animations, and many more. Our comfortable client areas, Green Room and makeup and hair facilities – including a backwash basin – make every shoot a pleasure. From our freshly ground coffee beans from Nude Espresso and restaurant grade coffee machine to our industrial kitchen with its 3 ovens and ten gas hobs for food shoots, to our delicious catering, we know how to look after clients, talent and crew.
PHOTO & FILM STUDIO HIRE
Studio Facilities
Our studio has the following facilities:
Main Studio
  U-shaped infinity cove
  31ft wide, 41ft deep
  Full lighting grid at 15ft
  Fully Soundproofed
  3 phase/400 Amp power supply
  Wired and wireless broadband 150MB/sec upload and download
Basement
  Large green rooms with sofas, meeting tables and cable TV
  Makeup and wardrobe room with hairdresser's backwash basin
  Changing room
  Shower
Floor Plan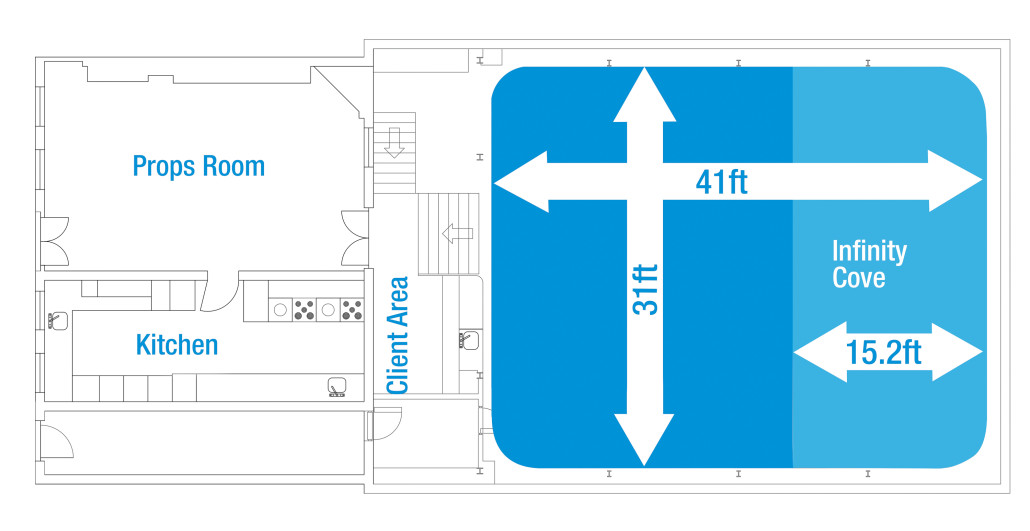 Soundproof Studio Booking Enquiries
If you would like to hire our studio, then please call 020 7837 1957 or email: simon@mountpleasantstudio.com.
Or you can fill in our booking form.