Mount Pleasant Studio – Now we are Sixteen
It's Mount Pleasant Studio's sweet 16th anniversary this month, and we're very happy with the birthday gift of our most ever bookings in a month - 25 days confirmed so far, with Friday the 30th still available, just in case you need a last minute green screen studio!
As well as thanking our clients for their loyalty and support over the years, it's also a good time to reflect on how the studio and the business has evolved since 2005.
We were using email back then, but broadband was quite narrow and live streaming didn't exist. Back then, a broadcast quality programme demanded a TV studio with broadcast infrastructure or an outside broadcast truck. Fibre broadband has revolutionised all that, and we now regularly host multi-day projects – last week a four day 'interactive virtual event' produced by Sayso Medical - sent live around the world. The image below shows MG's Dealer Conference, produced by bombora.tv.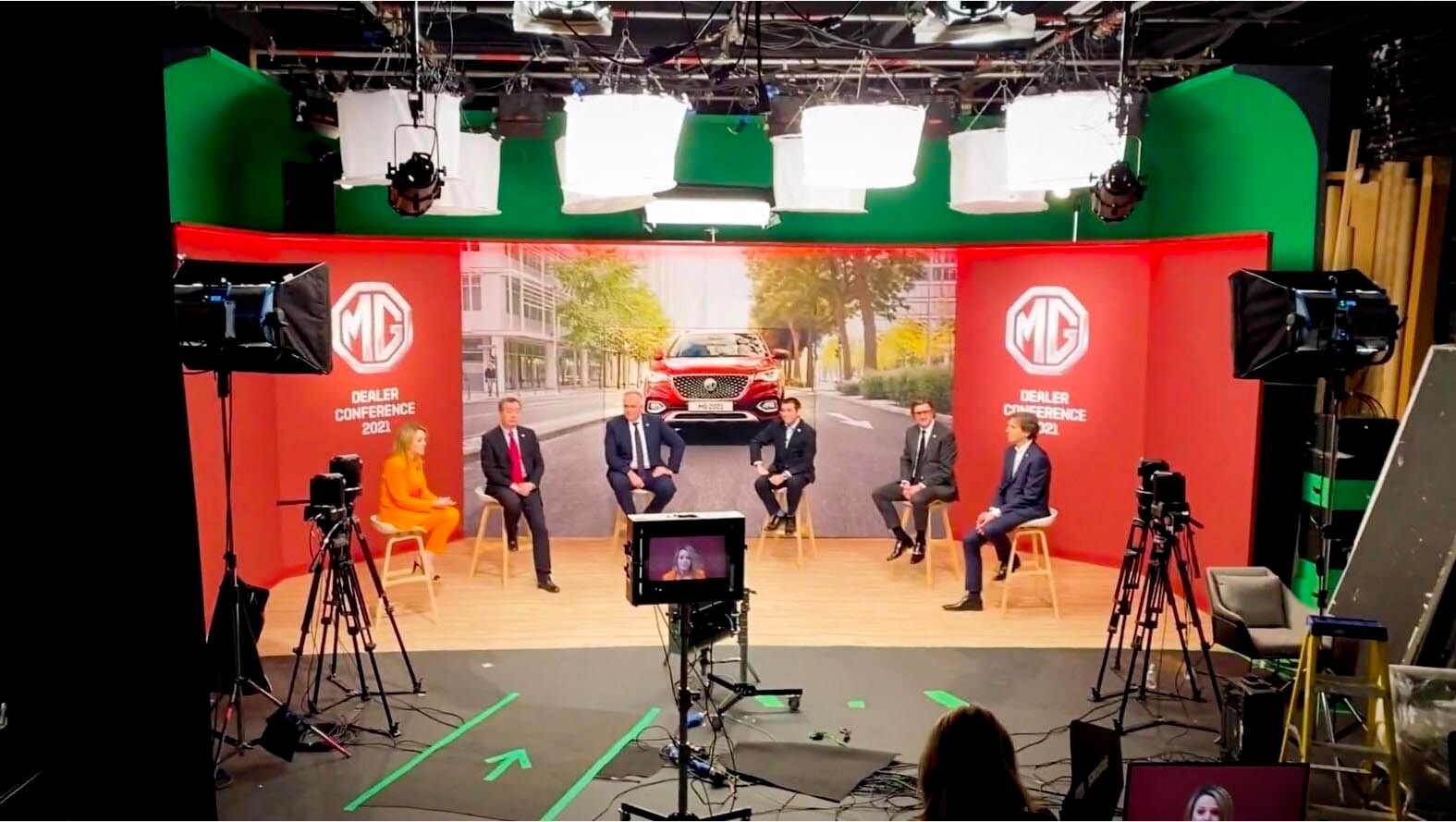 Since the end of the first lockdown our live streaming studio has been busy with awards ceremonies, staff conferences, customer presentations and webinars, while also continuing to host 'traditional' broadcast series, and corporate videos.
Among these, STV/Channel 4 has been here for five days shooting interviews for their 'Murder Island' reality TV series that's currently airing (image below). Channel 4's 'Stand Up To Cancer' promo, starring Davina McCall, Alan Carr, Adam Hills & Maya Jama was also shot at the studio recently. We have regularly hosted the team behind the phenomenally successful Sidemen YouTube channel. One of their films shot six months ago has already had a mind-boggling 21 million views.
Given the studio's heritage as the base of TV commercials production companies, it's been sad to see a reduction in the amount of commercials shot at Mount Pleasant Studio. Packshot shoots and product demos, our bread and butter in the early years, are now either tacked on to the end of the main location shoot, or packs are created in post. Food commercials – in spite of the presence of our brilliant industrial kitchen – seem to be either shot on location or in studios owned by food directors.
That's not to say commercials are entirely in the rear view mirror; in the past years we have shot commercials for Haig, Inch's Cider and Koko coconut water, as well as part of Jake Scott's epic for Vue Cinemas, starring John Boyega. As a recovering TV commercials producer - including dozens shot in the studio in the 90s and early noughties - it would be great to see more.
We own and hire out a range of lighting equipment, including Arri Skypanel S-60C LEDs, but in the late 90s much of our turnover resulted from hiring our Arri 435ES film camera and lenses, as well as supplying 35mm film. The arrival of the Arri Alexa changed all that. We bought an Alexa, but the camera that was used to shoot 'Skyfall' a few short years later wasn't deemed good enough to shoot an interview destined for YouTube. So we sold the camera and left the format wars to camera hire companies, that we are happy to subhire from.
I can't predict what the next years will bring, but it's clear that the production sector is booming and growing - with new production companies, ad agencies, post houses, digital agencies, PR agencies approaching us to host their shoots. There are so many new online and streaming outlets for filmed content compared to 2005 that the one thing that I hope I can predict is that the UK production sector will continue to grow.