Soundproof Room Studio Hire Soho
At Mount Pleasant Studio we have been offering high-quality soundproof room studio hire services in Soho for many years. Our state-of-the-art soundproofed TV stage is kitted out with a wide range of lighting equipment from Arri SkyPanel S60C LED lights, to 12Ks and down to a Dedo kit. We have accounts with major camera and lighting hire companies that are close by and can provide any further lighting or camera equipment that is needed at a competitive price. Our staff has been helping production staff with their shoots since 2005 and their wealth of knowledge and recommendations can be called upon if needed. Our U-shaped white infinity cove is prelit by eight spacelights and can be painted green for chromakey and VFX shoots.
Soundproofed Film Studios
Our studio has the following facilities:
U-shaped infinity cove
31ft wide, 41ft deep
Full lighting grid at 15ft
Fully Soundproofed
3 phase/400 Amp power supply
Wired and wireless broadband 150MB/sec upload and download
Basement
Large green rooms with sofas, meeting tables and cable TV
Makeup and wardrobe room with hairdresser's backwash basin
Changing room
Shower
Floor Plan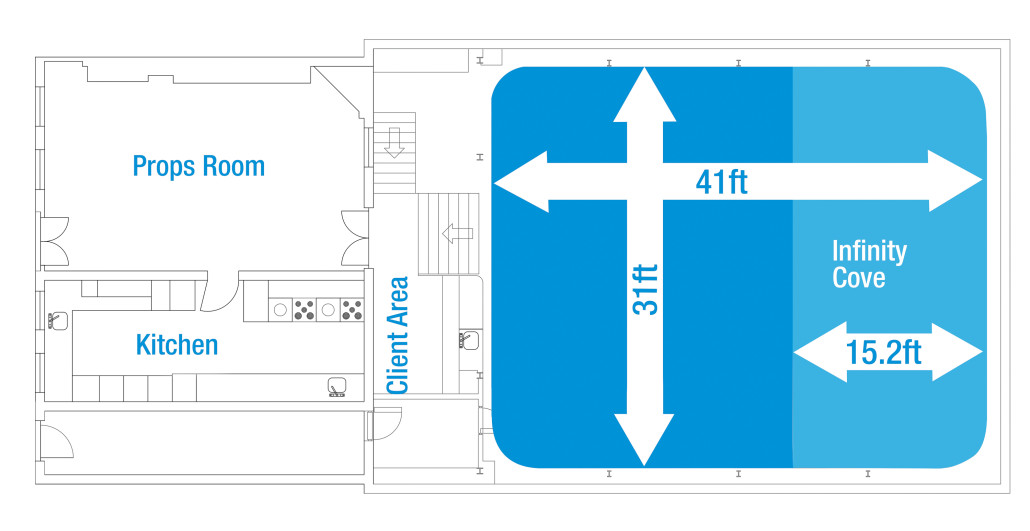 How To Book Our Green Screen Film Studios In Soho
If you would like to hire our studio, then please call 020 7837 1957 or email: simon@mountpleasantstudio.com.