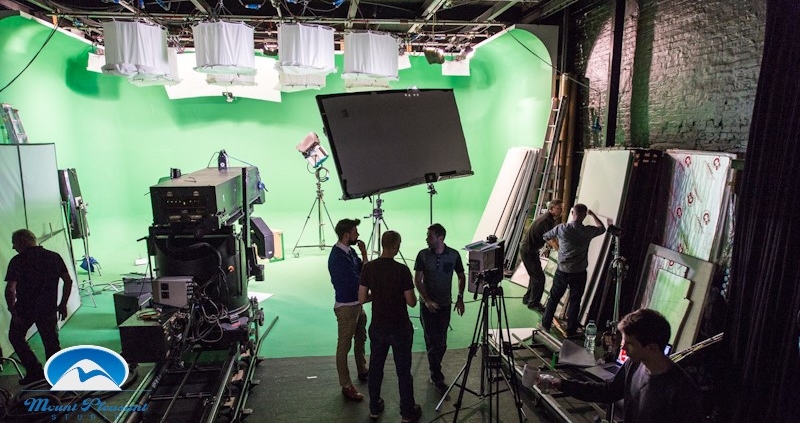 Mount Pleasant Studio is home to one of London's most central green screen studios, ideal for a wide range of film, video and photo shoots.
It has hosted a number of VFX shots for feature films including Assassin's Creed, a wide variety of television commercials, promos for companies including the BBC and music videos including Jessie J's famous 'Pricetag' film.
'Green Screen' is also known as Chromakey. Keying is the process of isolating a single colour and brightness and isolating that from the rest of a scene in post-production.
Colour keying identifies a particular colour to remove. In the early days of the technology, this tended to be chromakey blue, but chromakey green was found to be a more useful colour, not least because it occurs less often in sets and costumes.
It also requires less light to correctly illuminate. The colour green is the furthest colour from skin tones.
Shooting in a green screen studio enables endless creative possibilities. Actors and presenters can be superimposed on virtual backgrounds, digitally animated backdrops or transported anywhere in the world.
Logistics
When the studio was created, professional lighting technicians lit the studio space with eight permanent spacelights and cyclights that provide even light across the whole green screen area.
If you need to shoot against blue or green, we can paint anything from a small area to the whole stage. Visit and click Green-blue film video screen 'paint packages 1 to 4' for more info.
We also have a variety of green screen drapes available as well as 9ft or 12ft wide Colorama background paper that you can use by the roll or metre. The stage measures 31 feet wide and 41 ft deep and is fully soundproofed.
The stage is big enough to allow your talent to be lit separately to the lighting on the background. It is crucial that no green 'spill' from the floor or background is bounced back onto the skin or clothing of actors, as that makes keying extremely difficult.
Simon and Gabriel, our Studio Manager and Stage Manager, are here to help need you any advice ahead of your shoot. As a recent client wrote: "They made sure the only drama was in front of the cameras."
The studio has close relationships with the leading lighting and camera hire companies in London and can hire in any equipment at compelling rates.
They will also organise delicious breakfast, lunch and afternoon tea. As another client wrote: "…the catering was fantastic.".
Mount Pleasant is London's most central soundproofed green screen studio, minutes from the Central, Circle and Hammersmith and City London Underground lines.
Clients love being ten minutes from Soho and around the corner from some of the capital's best bars and restaurants.
Please contact our skilled team for more information.
https://www.mountpleasantstudio.com/wp-content/uploads/2019/09/Green-Screen-Studio-–-Mount-Pleasant-Studio-London.jpg
459
800
fastgenlee29
https://www.mountpleasantstudio.com/wp-content/uploads/2013/04/mount-pleasant-film-tv-studio-300x234.png
fastgenlee29
2019-10-11 10:58:48
2019-10-11 10:58:51
Green Screen Studio – Mount Pleasant Studio London